Which games would you port?
We recently looked at which final Wii U games we'd like to see make the transition to Nintendo Switch, the other natural candidate for ports is Nintendo 3DS, which is now deep into the twilight of its lifespan.
So, before we put our 3DS consoles into long-term storage, I started thinking about which games from its vast library might be worth porting over to Switch, so we can all continue to enjoy them anytime, anywhere.
This author has had a mixed relationship with the 3DS over the years; not being the biggest fan of handheld gaming I feel like I've missed out on a number of 3DS games. Looking at the library of games available, I've selected a handful of titles that I'd personally welcome on Nintendo Switch and, critically, are feasible.
The Nintendo 3DS received a bunch of games that were ported down to 3DS resolution, but only a few that were ported up to console resolution, such as Resident Evil Revelations, which of course began its life on 3DS. I'm not a game developer, so can't vouch for how realistic it is to port some of these games, but I can dream, OK?
It's also worth noting at this point that the argument of "no more ports" doesn't really make sense – if you don't want to buy a port of a game you already own, you don't have to buy it. More often than not this kind of ports are given to either smaller studios or small teams within larger studios and can be a great way for new(er) developers to learn a system, I don't believe they have a negative impact on the number of new games that are developed.

My first choice is a strong one – Metroid: Samus Returns, the "remake" of the original Metroid II Game Boy title. I feel it is one of those games that deserves to be presented in 1080p on the big screen. Also, with Metroid Prime 4 on the Switch schedule, you can expect Nintendo be re-releasing a number of previous Metroid games, so why not start with this one?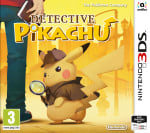 Publisher: Nintendo / Developer: Creatures Inc
Release Date: 23rd Mar 2018 (USA) / 23rd Mar 2018 (UK/EU)
Another obvious choice, with the (in)famous movie just around the corner, I'd be surprised if Nintendo didn't want to capitalise on its universal appeal. It would be an open goal, given the incredible amount of publicity that will surround the upcoming Hollywood flick. I feel that this title would really benefit from a Switch visual upgrade, too.
That's my list. Now, obviously I've skipped out a number of games that are too reliant on dual screens, either already available (Mario Kart), or announced (Animal Crossing), on Switch in one form or another, but if you had the choice of playing some 3DS games on your Switch, which would you want? Let us know in the comments below.